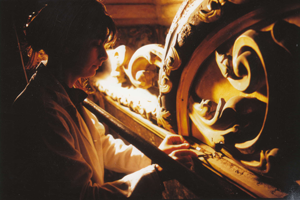 The four years course at the ISTITUTO CENTRALE DEL RESTAURO in Rome, which gave high specialization and skills during her formationto ANNA MARIA MOLE' (also thanks  to  direct experience working on artists such as Mantennga, Giulio Romano, Pietro da Cortona, Masolino da Panicale, Luca Signorelli, Sano di Pietro e Peruzzi), constitute a warranty of the consolidated business dealings with public and private institutions (as Soprintendenze, Ambassies, Municipalities and Counties of Italian territory), for the activities of ANTIQUA RESTAURO E CONSERVAZIONE  on site, as well as in the workshops.
Active during the last twenty years in the field of conservation and professional training, ANTIQUA RESTAURO E CONSERVAZIONE performs (from preventive care to active maintenance), on priceless masterpieces of cultural heritage, such as monumental facades, stone sculptures, stuccoes and relieves, wooden structures, mural and easel paintings, mosaics and stone inlays, which finds in its purposes and conservation practice coherent realization.
The conservation treatments of FRESCOES by Giotto, Cimabue, Torriti in Assisi - Basilica Superiore, of roman grotesque of Piramide Cestia in Rome; of graffiti on the facade in Pienza (historical site by UNESCO guardianship), the MOSAICS and STONE INLAYS conservation treatments of the I-II sec.a.C Roman Villa of Suasa (AN), the STATUES, FOUNTAINS and of the BRICK CURTAINS by Valadier conservation treatments in Piazza del Popolo in Rome, the huge altar masterpiece by Guido Reni in the Valtice castle baroque chapel in Czech Republic, the conservation treatments of CANVAS and WOODEN PAINTINGS from the pinacotheque of the Cassa Depositi e Prestiti in Rome and from the Brera Pinacotheque in Milan, can all be brought as examples (among the more than 100 works listed in C.V.) of ANTIQUA RESTAURO E CONSERVAZIONE effective capabilities.
Since 1994 hold the partnership with ARI – ASSOCIAZIONE RESTAURATORI D'ITALIA  and has been partner of scientific committee for the CAPITOLATI D'APPALTO PER IL RESTAURO DEI BENI ARTISTICI elaboration and publication.
In the European area, ANTIQUA RESTAURO E CONSERVAZIONE has been present under the insigna

COMPAGNIA EUROPEA DI RESTAURO, as a merger of companies with interdisciplinary diversified specializations, which grants to CER extraordinary capabilities of intervention in the performance and maintenance of historic buildings, archaeological sites and ancient and modern interiors.